The most important information for designing a plate heat exchanger is: the fluids involved in the exchange, the flow rate and the input / output temperature of the product, the flow rate and the input (or output) of the temperature of the process fluid (such as water, steam, etc.).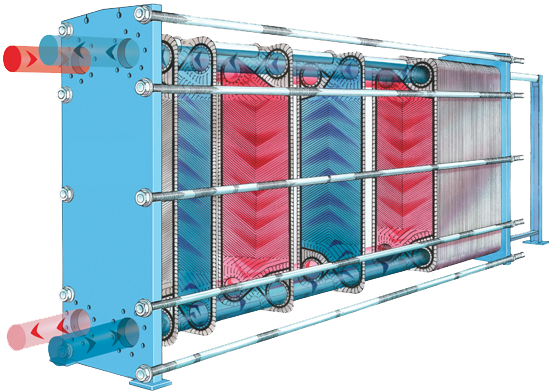 Structure, size and number of stages depend on the specific application and performance required.
We design and optimize the plate heat exchanger specifically for your application. Other customizations can be added.
AISI316 stainless steel guarantees the suitability of the machine for the food industry. AISI304 can be used for water or other process fluids (not food products). The thickness of the plate depends on the differential pressure of the second side. The gasket material depends on the fluids involved. A wider range of products is offered.
A summary table of each possible product is shown with some additional technical details. The legend is shown first in the table.

LEGEND
G=glued
L=locked
N=NBR, NBR/HT
E=EPDM
V=VITON
316L=AISI316L
316=AISI316
304=AISI304
Ti=Titanium
DW=Double wall
FF=Free flow
TABLE
Frame Model
Plate Surface (m2)
Plate Port (mm)
Plate Materials
Gasket Material—
Gasket Locking
(Glued/Locked)
Double wall / Free flow
FDB030
0,030
32
316
N/E—G
 
FDB037
0,037
29
316L/Ti
N/E/V—L
DW
FDB046
0,046
32
316L
N/E/V—L
 
FDB047
0,047
28
304/316L/Ti
N/E/V—L
 
FDB060
0,060
nd
316
N/E—G
 
FDB070
0,070
29
316
N/E/V—G
 
FDB075
0,075
29
316L/Ti
N/E/V—L
 
FDB080
0,080
nd
316
N/E—L
 
FDB085
0,085
nd
316
N/E—G
 
FDB090
0,090
40/42
316/Ti
N/E—L
DW
FDB093
0,093
56
316L/Ti
N/B/V—L
 
FDB115
0,115
50
316L
N/E/V—L
 
FDB120
0,120
67
304/316
N/E—G
DW
FDB130
0,130
67
304/316/Ti
N/E/V—L/G
DW
FDB135
0,135
55
304/316/Ti
N/E/V—G
 
FDB150
0,150
56
316L/Ti
N/E/V—L
DW
FDB169
0,169
56
304/316L/Ti
N/E/V—L
DW
FDB180
0,180
67
304/316
N/E/V—G
 
FDB210
0,120
56
316L/Ti
N/E/V—L
 
FDB240
0,240
100
304/316L/Ti
N/E/V—L
DW
FDB260
0,26
78/105
304/316/Ti
N/E/V—L/G
DW
FDB400
0,400
100
304/316L/Ti
N/E/V—L
 
FDB440
0,44
105
304/316/Ti
N/E/V—L/G
DW
FDB460
0,46
105
316L
N/E/V—L
FF
FDB500
0,500
100
304/316L/Ti
N/E/V—L
DW
FDB540
0,54
nd
304/316/Ti
N/E/V—L/G
 
FDB550
0,55
nd
304/316/Ti
N/E/V—L/G
 
FDB610
0,61
nd
304/316/Ti
N/E/V—G
 
FDB640
0,64
nd
304/316/Ti
N/E/V—G